Throughout camp week, Year 8 embarked on a journey around the Hawkesbury River with the help of Southbound, who provided food, water, resources, and most importantly, leaders. From Tuesday to Friday, the cohort was broken into their respective houses, splitting up and going to different campsites whilst completing different activities. These activities included canoeing, stand-up paddle boarding, mountain biking, hiking, and so much more.
Day 1
The first day of camp started with the whole of Year 8 gathering at school. At 8 am, we saw our first split up, separating into four buses, with 2 houses on each bus. We were then shipped off to our respective destinations, with Warren, Hassall, Robinson, and Andrews going to their campsites. Meanwhile, Darling, Langdon, Johnson, and White were transported to a spot, which they then canoed 11 km to their respective campsites. This canoeing journey can probably be described in 2 words: extremely exhausting. One student said, "I hated it, it was too tiring" Another said, "took forever, waste of time." With the temperature being 30+ degrees, these 4 houses dragged through the river, wrestling with the tides and the glaring sun. Sunburns were basically inevitable, with most people ending up with bright red skin by the end of the day.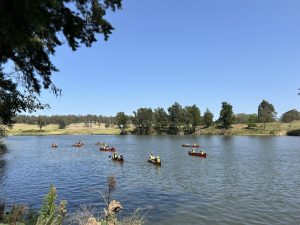 While one half of the year group was suffering from this immense torture, the other half spent their time learning about the Darug language and culture, along with completing their culminating task. They also had the chance to visit Yellomundee National Park, where they hiked around the Aboriginal land, learning about its important indigenous history and culture. "Day 1 of camp set a solid foundation for the rest of the camp," stated a student from Robinson. After this hectic day, we had to cook our own dinner in a Trangia, which is a special cooking pot/stove designed for camps. To cap off day 1, we got some sleep in our crowded tents, and while it wasn't the most comfortable place to rest, there weren't really that many complaints, due to how tired we were.
Overall, it can be agreed that (at least between White and Darling) that day 1 of camp was really challenging and pushed it to our limits, however, with encouragement from the Southbound leaders, we pushed on and hoped for the best in the following days.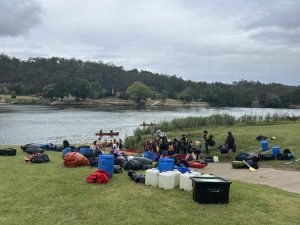 Day 2
The morning of day 2 began with an early morning rise for Darling and White. Straight after breakfast, they crawled into their canoes once again, and paddled 5km to their next campsite, joining Warren and Hassall. At their new campsite, Darling and White spent the rest of the day playing and learning Aboriginal games and dances. Langdon and Johnson also got into the water once again as well, canoeing 6km to their next campsite. After arriving at their new campsite, they spent the rest of their day mountain biking and learning Aboriginal dances. All four houses would stay at those campsites for the remainder of camp.
When describing how the second day of canoeing felt, a student from White stated, "It felt short compared to the 11km. We felt more relaxed, and it was easier. It was also in the morning, so we had more energy." It's safe to say that day 2 of canoeing saw significant improvement from the first.
Meanwhile, Warren and Hassall used their last day at their first campsite to play some Aboriginal games, and also doing their Darug booklets. They also spent the afternoon stand-up paddle boarding, having some fun in the river under the sun.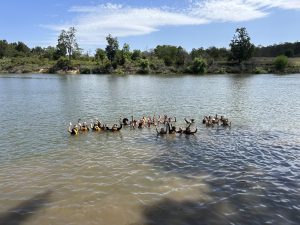 Day 3
Day 3 saw Warren and Hassall leave for their new campsite, canoeing away in the morning. White and Darling took turns stand-up paddle boarding and mountain biking. It started raining lightly midway through the day, but it wasn't anything we couldn't handle. Compared to the past 2 days, it seemed like anything was possible to persevere through!
Andrews and Robinson started canoeing towards their next campsite as well, however they had to turn back 2km in, due to the tide being too strong for them to push through. When describing how it felt to turn back after canoeing 2km against the tide, a Robinson student said, "It was disappointing and annoying, but I felt relieved that I didn't have to canoe anymore."
Langdon and Johnson did stand-up paddle boarding on the 3rd day, along with playing a variety of Darug games. A student from Langdon described paddle boarding as, "Chaotic and wet, but very fun. Definitely worth doing again."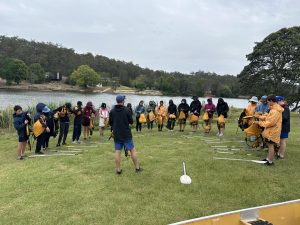 Day 4
Day 4 was the last day of camp, and it was met with a roar of grateful cheers. Early in the morning, White, Darling, Johnson and Langdon packed up their tents and got onto a coach to visit Yellomundee National Park. There, they went on a hike, learning about the Aboriginal importance of the park. (Just like what Andrews, Robinson, Hassall, and Warren did on day 1)
Because they didn't successfully manage to canoe to their next campsite on day 3, Andrews and Robinson woke up at the crack of dawn, then glided through the river on their canoes to their next campsite. They travelled 7 kilometres, pushing through tide changes and drizzling rain. Hassall and Warren finished off camp canoeing, as they packed up and got ready to leave for school.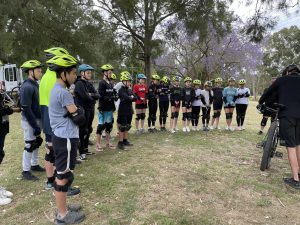 At around 2:30 pm on Friday, we arrived back at school. The reunion with parents and friends was no doubt looked forward to. Everyone was happy to be back from camp, exhausted and filthy. After all, it had been 4 days without electronics, a comforting home and barely any showers. But while there were a lot of areas in camp that were dislikable, it provided us unforgettable memories, giving us the opportunity to bond with our friends and peers. A lot was learnt from this experience, including what not having phones for 4 days feels like, what barely showering for a week feels like, and a LOT about Darug culture. So, yes, camp was not the most pleasant hygienic experience, but it did create some extraordinary memories, that will be remembered for the rest of our lives.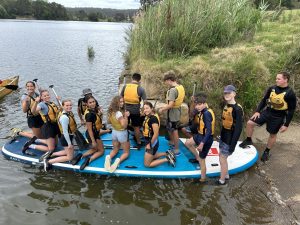 The highlights of the camp according to Year 8 were:
"The bus ride home, getting to rest."
"Getting to know my mentor group better."
"Stand-up paddle boarding"