CIS Winners: The Platinum Generation
Grand Final vs Newington College
In the realms of William Clarke College sporting history, few things will ever come close to the relentless courage and sheer determination put on display by our senior football team last night, achieving the ever-prestigious title, CIS CHAMPIONS!
In the early minutes of the game Sumair S. put the ball in the back off the net with a brilliant strike to put the College ahead, proceeded by a surge of energy amongst the hundreds of WCC supporters who made the journey to Valentine Sports Park. Then, a well-placed penalty by Zach S. made it two. Billy I. was also keen to get in on the goal scoring action, smashing one from the top of the box into the bottom corner. We were 3 – 0 up in 20 minutes. But the game was far from done, Newington College finding an extra gear to put 2 on us before half time. Our opposition came out guns-blazing in the second half, scoring another 2, now leading at 4-3, with 10 minutes to go. Time was running out, we were facing defeat, an embarrassing defeat. But this wouldn't stop us. Brendan A, defying the laws of gravity in goals, making a handful of crucial goal-line saves, keeping us in the fight. With two minutes left we had one more chance. Zach S. whipping in a beautiful ball for a header to hit the crossbar and fall in the path of a determined Lachlan G, smashing it in to save us from defeat. 20 minutes of extra time followed, William Clarke now applying the pressure, unlucky not to score. Now it was down to a penalty shoot-out, both teams lining up on halfway, watching on nervously as each player steps up to shoot. 5 well placed penalties from William Clarke meant it was down to sudden death, putting the pressure on Newington to score their last penalty to stay alive. Their last penalty taker stepping up and missing.
WE HAD DONE IT. The WCC boys standing triumphant, winning against all odds. Our celebrations boosted by a ballistic College crowd, witnessing one of the greatest moments in William Clarke sporting history.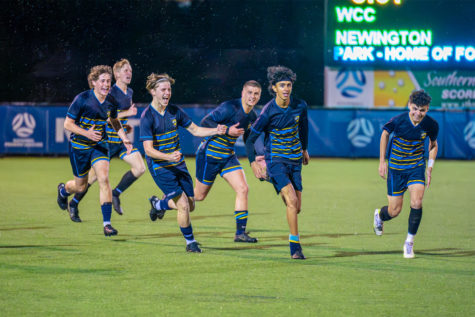 This article could go on like this, figuratively puffing our chest and holding our heads high, but it would not capture the journey it took to reach this point honestly nor properly. Do not get me wrong, every positive performance took resilience and effort, but a perfect mix of great coaching and tactics form Mr Bull, unconditional, loyal support from the College community, a bye and good fortune was required to instil a belief in our boys that we could do it. So here is our journey.
Round 1- Bye
Round 2
Every game was a challenge, a step up a mountain, especially our first. A tough fixture against Arden Anglican School, well known for a strong line up, filled with players of the likes of great teams. Players from the Western Sydney Wanderers and other strong representative sides. On April 3rd, the boys arrived at Bernie Mullane Sports Park pouring with rain, excited but nervous for the game that lay ahead, no training sessions or tactics meetings, just the attitude to give it a go. In the end the team picked up a hard-fought and physical 2 – 1 win, playing hard but fair, representing the character the College emblem stands for.
Round 3
A month later, it was time for a long-awaited round 3. On May 3rd, the boys made the hour-long journey to the Sutherland Shire, to take on the Shire Christian School. A trip to the wrong venue meant a lengthy delay before kick-off, leaving many apprehensive for what lay ahead. A goal-less first 40 minutes meant it was all to play for in the second half. Not long after the break, Hugh C sent a lovely curler into the top corner to put us one up. Then, to seal the game, some beautiful passing play put Sumair S. in for a composed finish.
Round 4 (Home)
After discovering the performances and teamwork that we were capable of, the boys were ignited with an enduring desire to win, every game was a step closer to turning our dreams into reality. Round 4 meant our first home game on the beloved College 'Groval' (a nickname given to our College oval), against a well-travelled St Columba Anglican school making a 4 hour journey from Port Macquarie. This was a special occasion, no other like it, a true honour. These trembling teenagers tattered in teal, gold and navy, were ecstatic to tiptoe onto that storied stage, to wear the badge, worn by the many predecessors that came before them. To wear it with heart and give to the onlooking College supporters what they deserved, a second shot at a CIS semi-final. From kick off each team knew it would be a tough game to take control of, wrestling with the mountainous terrain that encompassed the College 'Groval'. An even first 20 minutes saw both teams going back and forth with their chances, but an elegant display of control from our midfield 3 meant we could hold possession and play our style of football. An ongoing persistence in controlling possession burned holes in St Columba's defence, opening for Zach S. to put us ahead. Not long after that St Columba equalised with a composed penalty to put the game square. This did not weaken our mentality, but motivated us more to push back with the help of a packed College crowd. Zach S. twisting and turning ever so elegantly, squaring the ball in the box for a narrow miss. This didn't stop him. A few minutes later meant another chance, a late run into the box for a well-placed bottom corner finish. The lunchtime crowd went ecstatic, a bellowing cheer echoed across the school. 20 minutes later the referee reached for his whistle and blew. The game had come to an end. One step closer, two more steps to come.
Semi-Final
On June 5th the boys were in for it. The odds were against us. William Clarke vs Knox College. Rumours of how strong our opposition were had circulated in the days leading up for this clash. A highly prestigious school known for their sporting prowess, especially for their programmes dedicated to fostering many elite athletes. A tactics meeting from Mr Bull at lunch, paired with a pre-game team talk from Mr Storie meant we were ready to face anything that came before us, not for us, but for the school.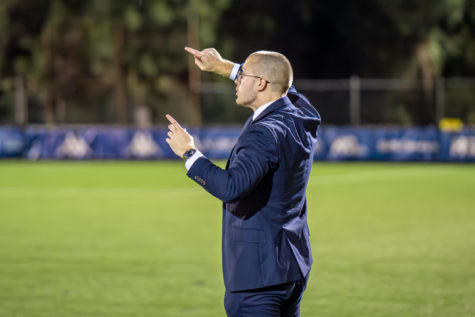 As we stepped out onto the pitch, many of us felt a glare from the team opposite to us, a glare that echoed superiority. A glare that meant William Clarke were inferior in their footballing capabilities. But this wouldn't matter. Only time would tell. After the first 5 minutes the smirks on their faces were nowhere to be seen. An unlucky effort off the woodwork from Hugh C and a few brilliant saves from Brendan A. meant they were now in for it. Both sides throwing everything they had at each other for the first 40 minutes, leaving the half with no goals scored. Another team talk from Mr Storie and Mr Bull followed, leaving us now more motivated than ever. The game continued with the same intensity, each of us pushing and pushing until our chance came. I was on the right-wing sprinting to provide support to Sumair S, who had beaten their defence, giving everything to get into the box, ready for the final pass. But Sumair S. had another plan, a better plan. With only one thing in mind, he rounded the keeper with a Messi-esque body faint, and with one more look up he hit the ball into the goal. We were ahead. Football could be coming home. We defended the last 15 minutes with our lives, holding an impenetrable block until the dying seconds of the game. The final whistle blew, one more to go.
This leads us to where we are now. Not just CIS champions, or the new 'Platinum Generation', surpassing the achievement of last years "Golden Generation", or any sporting team in College history, but a good group of young lads representing what it means to be a part of William Clarke College. A group who now know what it means to just give it a go.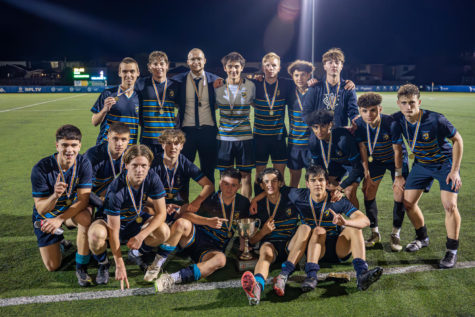 Photo credits: Nick Walkden-Brown (Focus Media)