We Are One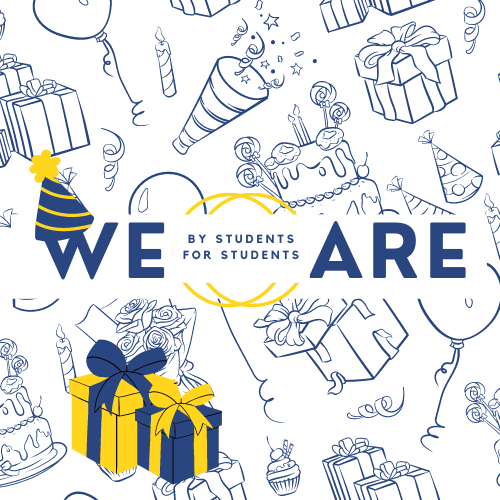 It all started with a wish. That William Clarke College students could champion discussion and debate, cultivate a vibrant and rich culture and celebrate student creativity & achievements all in a one stop shop. And so, We Are, William Clarke's very first student media site was birthed, a newborn baby to its loving biological parents, Jazz and Liv. 
For us, then doe-eyed Year 11 students, the creation of We Are was a spectacle we watched from afar. School newspapers were something we had only seen in American High School dramas. But a student media site was a huge step for student agency. However, similar to most WCC students, we were sceptical of what it would authentically achieve. Would it be the new Connect? Perhaps a very diluted expression of student opinion with Chinese-esque censorship from the College board? Or maybe it was an idea that was born with Jazz and Liv, and died with them too. 
But, when the much-anticipated first We Are Wednesday rolled around, one message became an apparent motif to us.  
We Are is "for students, by students". 
We knew we had to be involved, being the annoyingly opinionated students we are (haha).   
After a vigorous and slightly terrifying interview process, we were let onto the team. Olivia, a movie buff with taste beyond her years, was an entertainment contributor. Lucy, an aspiring journalist and successful pessimist, was given a position as a news contributor. 
For the next few months, we both played a small role in what seemed to be a well-oiled machine captained by Liv and Jazz. But as September rolled around, and we began to say goodbye to another graduating grade, Olivia and I knew that we wanted to be involved in continuing the legacy of We Are well beyond the graduating class of 2022. So, we became the adoptive parents of We Are, along with Alex, our Chief Designer.   
Whilst we were lucky that Liv and Jazz had done the hard work of turning nothing into something, we were left with a piece of clay which we could mould however we wanted. We soon realised the challenge we had ahead of us.  
Over the past year, we are happy to say that We Are has not been hacked by Russians or ended up as an unfortunate headline on the front page of the Daily Telegraph. In fact, We Are has grown significantly more than we imagined. We have achieved the publication of approximately 160 articles, with the most credit being owed to our incredible team of writers and designers made up of over 30 talented students! 
When we commenced our roles as Editors-in-Chief, one of the things we wanted to check off our list was to broaden the prospects of student involvement, which encompasses recognising and incorporating new opportunities for interests and skills to be showcased on the site. One thing we noticed was that most of the content, particularly the Entertainment section, was dominated by Westernised movies, music and pop culture. With the help of some of our writers and designers, we created the Anime sub-section to allow numerous writers and designers to express their interests and cater for the growing audience in the genre itself.  
When considering the new content, We Are also introduced Teacher Takeover. This week saw a huge spike in interest of the site, clearly displaying that we all want to know what the teachers have to say. This was a huge milestone for the site, and not only the student engagement increased, but the staff and many people in the wider community.  
We have dipped We Are's toes in a few controversial topics too. I'm sure everyone remembers the Branwhite bash from a few months ago, and the more recent discussion of the potential toxicity of extreme feminism. Both articles have been landmarked as two of the most influential and engaging articles on the site. These articles sparked rebuttals, college-wide conversations and encouraged people to think about their own perceptions of what's around them. And in all transparency, that was the intent. We Are is about allowing people to express their opinion (respectfully, of course), allowing these conversations to be had and to encourage individual thinking.  
Whilst we cannot deny that it has been a turbulent year, We Are has gifted us more opportunities than we could have dreamed of. The chance to work alongside an incredibly intelligent and passionate group of Editors (we love you James, Anson, Zara, Jessie and Ellina), the chance to engage with the diverse opinions of those within the College Community and most importantly, the chance to be two hermit crabs in what we hope will be a long line-up to come.  
So, join us in wishing We Are a Happy 1st Birthday!