Alex Koch: The new Man in the Chair?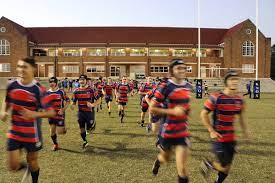 Last Thursday, the Primary and Secondary Schools of William Clarke College all crowded into the Sports Centre to uncover the identity of the new headmaster. Previously, Dr Scott Marsh had led our school, ushering in many changes, such as the multi-grade tutor groups to the single-grade mentor groups, the Branwhite centre, the three-period day and M.Y.C.A.H. The pressure was on for this anonymous new Principal.  
Dr Marsh was the head of our school from 2017 to 2022, where he got involved in various school initiatives until the sudden announcement of his departure to Scotch College in Melbourne. Since his teary exit, Mrs Janine Stillen, the Deputy Head of our school, has taken over as interim Head – becoming the first female principal our school has ever had! 
And last Thursday, it was finally announced – the new Headmaster is Mr Alex Koch.  
Alex Koch is currently serving as the Deputy Headmaster of Arndell (so far, his only shortcoming) and will serve as our headmaster from the beginning of 2023. Hearing the groans about his current appointment with our rival, Arndell, the students departed the Sport Centre, more curious about who he is. 
From what we gathered, Mr Koch has an interest in running and rowing, having represented the state in competitive rowing before. Mr Koch, our soon-to-be-headmaster, is also an avid Tigers fan (watch out, Mr Clarke). 
Reverend Alex Koch is also a director of CRU, and an avid participant in music in his church. He has a science and Maths degree from UNSW and a Master of Educational Leadership from UNSW.  
While this is the basics of who he is, what we really want to know, is what he is like as a person. From some contacts at Arndell, we figured he must be great at what he does since they were reluctant to let him leave after his appointment to the school in late 2019.  
Some of the students had said that he possesses an enthusiastic sense of humour, one rivalling Dr Marsh's, and is quite unique. He was also given an affectionate nickname by many of the students, which bodes well for many of us.  
While we still do not know much about the new headmaster, we still can be confident that William Clarke will advance under his leadership.  
And be sure, that WE ARE readers can anticipate more of Mr Koch on this site.