We Are Planning our Future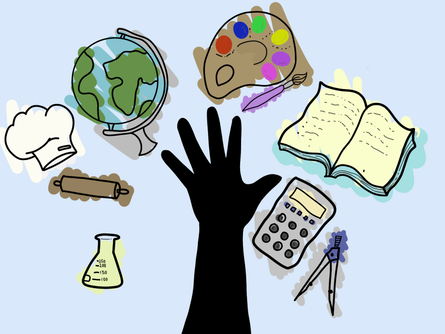 Edited by Liv S  
The final stretches of High school have begun for Year 10, as they finalised Year 11 subject selections at the end of Term 2. This time of year is always difficult for students who do not know what they want to do when they leave school, or if they want to do every subject possible. As these students reflect upon their subject choices, and Year 9 students start to think about this process, this article is to provide insights into some of the subjects available… 
All creative arts are fun for those who are imaginative, original, and artistic. Drama, being a popular communication of creative arts, guides students in performing and designing, offering friendship and community – unlike any other subject. 
Music is also a fun and engaging subject that enables students to learn and deepen their knowledge, as well develop the skill to develop their own compositions! 
English, being a compulsory subject, can be difficult in determining which course is the right. This is one of the subjects where students should go with the advisories of their teachers, but be willing for a challenge. Both standard and advanced English, with the support of the English faculty, provide unique insights into the study of an array of texts. 
Humanities offers a wide range of courses that all students can learn and love. From history to geography to business, there is something for everyone to participate in and enjoy. Most of these courses can be quite content heavy, but the teachers are always there to help you and develop strong teacher-student relationships to guide you through the course. As Teagan R (Year 12) reflects upon her two years of experience with the course, she says, "I love modern history, because you get to learn about a whole range of interesting topics and you get to explore and discuss perspectives on the events as well!" 
The PDHPE faculty have amazing staff members that teach Dance, PDHPE, and Community and Family Studies (CAFS). In these courses, students are able to explore what they are interested in and enjoy engaging subjects. However, do not be fooled; not every lesson is filled with sport! 
Even though it may not be a subject for everyone and should primarily be taken with teacher recommendation, the mathematics courses are engaging with various benefits. The Mathematics faculty are committed to providing consistent support, always supplying resources and guidance. Tim B (Year 12) as he finishes the course expresses his passion for the subject and desire to do well in it, noting his particular enjoyment of "the certainty" of answers to maths questions! 
Sciences are awesome subjects that are hands on and engaging. With wonderful teachers at your aid, you will be supported and well-resourced. There is a science for everyone and doing more than one can prove to be helpful, considering the many crossovers in the different courses.  
TAS subjects also offer a wide variety of subjects to suit everyone's interests. They are quite hands on and fun. Classes are engaging and teachers are amazing. From food tech to engineering studies, students are able to gain experience whilst learning a little bit about the industry.  
Students also have the unique opportunity to do external courses, such as languages, TAFE, and school-based apprenticeships and traineeships that offer real-life experience into courses that students are interested in. 
Yet, to all the Year 9s and 10s as you reflect upon these subjects that you have chosen or are considering to choose – always keep in mind what you are passion about! Wishing all the best for the Year 12s as they complete their exams for these subjects this term.