During Year 10 camp, we were fortunate enough to partake in numerous different and enjoyable activities with our friends. These were the top ten most valuable experiences of our week –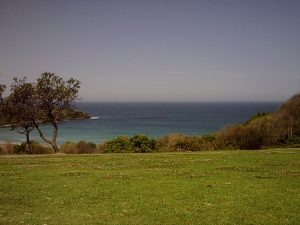 Cooking Our own meals (10) –
During this week, we were faced with the challenge of cooking our own meals, whether that be from a Trangia or other means. This was a difficult task, however, it encouraged us to become more independent and self-reliant as the week progressed. We were able to have a go at preparing and trying many different meals for ourselves and the rest of our group, including; Beef stroganoff, Burgers, Veggie Gnocchi and Butter Chicken.
Mountain Bike Riding (9) –
On Monday and Tuesday, the girl groups were fortunate enough to participate in mountain bike riding, first completing a 15km ride followed by a 10km one on the following day. These rides took place along the coastline, which provided beautiful scenery. Riding a bike was a new and challenging experience for some, but many persevered and were able to learn a new skill during this week.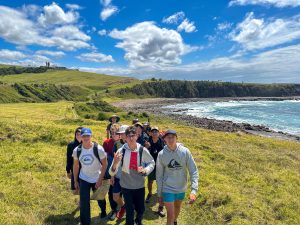 Seeing Whales (8) –
During many of our coastal hikes and mountain bike endeavours, we were able to catch a glimpse of whales off the coast. This was an amazing encounter, and we were truly grateful to have been able to see much of the incredible wildlife our country has to offer.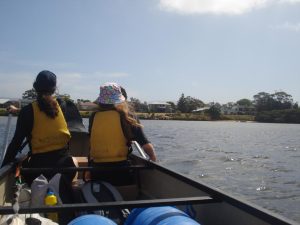 Lunch Picnics (7) –
Lunch picnics quickly became a favourite for some during the week, as they were a great opportunity to rest and recharge in the day. There were plenty of food options on offer, with some of the preferred options including the salami wraps. The lunch picnics were a great time to bond with friends and reflect on the day's events.
The Kiama Lighthouse/ Blowhole (6) –
On Friday, some of the girl groups were taken on a coastal hike to the Kiama lighthouse, where they would be then taken back to school. The Kiama lighthouse also features the Kiama Blowhole, a stunning natural wonder in which the ocean water is sprayed up through the rocks. This was an awesome way to end our camp week and proposed an amazing photo opportunity!
Sunrise at the Beach (5) –
On Friday morning, our group was fortunate enough to be taken down to the beach at the end of our campsite, to watch the sunrise on our last day. Although it was cold and windy, this was a beautiful way to begin the last day we had together as a group, and it reminded us of all the ways in which nature can be incredible. 
Bonding with our friends (4) –
Camp week overall was a great chance to bond with our friends, and strengthen relationships already built, as well as developing new ones. Spending this time with our friends was an amazing way to learn more about each other and create new memories and share in these wonderful experiences with one another.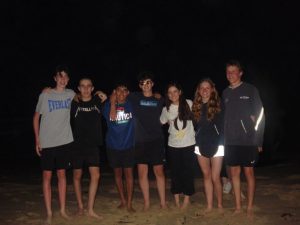 Coastal Walks (3) –
Coastal walks took place for our group on Thursday and Friday. On Thursday, we walked the Kiama Coastal walk, which was approximately 5km, and totalled the walk from one campsite to the next to 8km. During this walk, we were fortunate enough to see whales and other wildlife and be so close to the ocean as we hiked once again. Walking along the coastline is an experience like no other and made for some breathtaking moments.
Surfing (2) –
On Wednesday, the girl groups participated in surfing, which once again, was a new skill that many learnt and mastered. Being in the ocean was freezing, however, everyone had fun challenging themselves to try this new skill. With our instructors helping us, many of us were able to stand up and ride the waves by the end of the session.
Free time to hang out at the beach (1) –
Being given free time to hang out with our friends at the beach was definitely the highlight of the week. It gave us time to relax and talk with each other about what we had enjoyed so far, whilst also enjoying the ocean when the weather was warm. Out of a perfect week, this was definitely one of the best moments!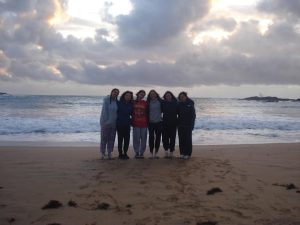 Overall, camp week was a very enjoyable experience, in which we were able to learn new skills and expand our relationships with our peers. Just remember, don't count the days, make the days count!